You've got your visa, but what does it all mean?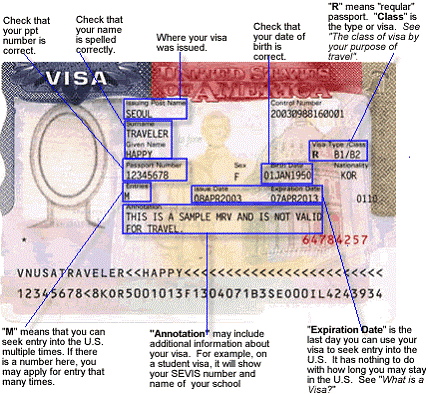 First, check to make sure that all of your personal data is correct. This includes your name, date of birth, passport number, gender, etc.
Next, check the type of visa (normally "R" for a regular, personal passport as compared to a diplomatic passport)  and the class (e.g., B1/B2, E-1/E-2, F-1, J-1, L-1 or L-2, H-1B or H-4, etc.). Also check to see whether it is for multiple entries ("M").
Third, the issuance and expiration dates. For most work visas, the expiration date will be the same as on the petition which was approved by CIS.
Annotation. For a work visa, this will have the employer's name and the CIS petition number. For a spouse or child, it will also have the name of the principal alien ("PA – John Doe").
An Immigrant Visa will clearly state IMMIGRANT VISA in the upper right-hand corner in bold capital letters (in place of the Control Number on a non-immigrant visa), followed by your National Visa Center case number (e.g., for Frankfurt it will be FRN200912345678). Right under that will be your Registration Number (which is also your Alien or A number, such as 033 456 789), and under that will be your IV category (such as CR1 or  IR1 when you are the spouse of a U.S. citizen).  It will have a validity of six months.